"The American Soldier powerfully brings home the impact of war."
The American Soldier has been nominated for an Amnesty International Awardfor theatre excellence, received 4 stars at the Edinburgh Festival Fringe, been featured in The Huffington Post, The Washington Post and Time Out to name a few and performed at The Kennedy Center during inauguration weekend at the Library of Congress on Veterans day of 2017. It has been touring across the country for the past two and half years, including New York, Texas, Connecticut, Virginia, Kansas, New Jersey and recently performed again Off Broadway.
The American Soldier is a solo show that reveals the struggles American soldiers face at war and their internal struggles to come back home. Based on real stories and accounts from soldiers' letters written from the American Revolution through current day Afghanistan.
This show strives to help us understand how and why it is so difficult for men and women in the armed services to re-enter our pedestrian life when they come home. It honors and exposes their flaws, their scars, their families and spirits with both humor and darkness.
Directed by Padraic Lillis
Originally developed in Emmy Award-winner Matt Hoverman's GO-SOLO Workshop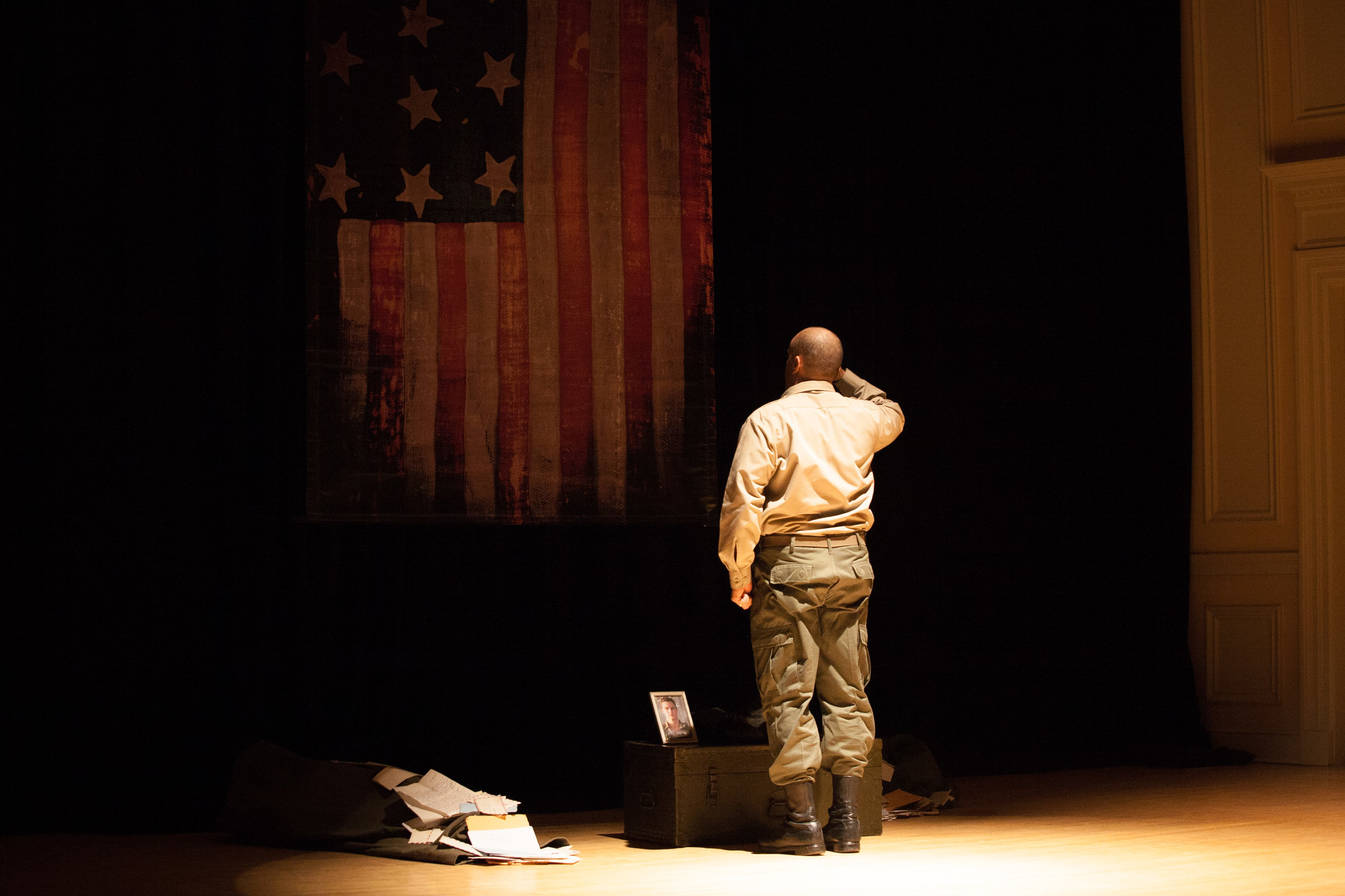 Flawless and powerful.'- Huggington Post
Earned 4 stars at Edinburgh Festival Fringe
"Douglas Taurel's compact solo play about war and its affect on the everyday soldier...is tightly crafted and effective!"
- Erica Moffett, Women Around Town Magazine
"The American Soldier powerfully brings home the impact of war on the people who live it day in and day out. He plays each character with passion, nuance and heart...a must-see!"
- Nancy I. Kelly, Producer, Mono a Mono Festival, New York, New York
"Douglas Taurel offers an unvarnished portrait of generations of warriors and the pressures that continue to mold them after their wars are over."
- John Chatterton, Curator & Producer of Midtown International Theatre Festival, New York, NY
"This is the greatest one man show to have ever played at TBH Arts Center"
- Javier S. Perez, Artistic Director, Houston, TX
"Our theatre strives to create theatrical experiences that relate to and move our audience. Douglas Taurel's The American Soldiercertainly fulfilled that aspiration. Our audiences were deeply moved by his heartfelt performance. The American Soldieris a beautiful work of theatre."
- Chris O'Connor, Mile Square Theatre Artistic Director, Hoboken, NJ
.
"The two performances were unforgettable! Those that attended the two sold-out shows were moved beyond words at the power of the show and it's messages. "
- Frank Marquette, Theatre on the Road at Arts at the Chocolate Factory, Red Hook, NY
"The American Soldier is a riveting play that keeps viewers on the edge of their seats. Using dramatic presentations of the lives of individual soldiers through time, the play allows the audience to see into the personal experiences and the emotions of real people, and to gain invaluable insights into the effects of war. These effects are deeply personal and timeless – shared experiences from the Revolutionary War, to the Civil War, World Wars, Vietnam War and Wars today. Douglas Taurel is superb, creating believable and emotion-filled portrayals that I will never forget!"
- Pam Pettengell, Director of Programs, Jamestown-Yorktown Foundation, VA
"Douglas, you have proved the power of drama in making the past relevant to the world today. The American Soldier makes history less about dates and events, and more about the lives of people. Thank you for bringing The American Soldier to the American Revolution Museum at Yorktown!
- Mark Howell, Director of Education, Jamestown-Yorktown Foundation, VA
Your work is so awesome! As I sat there watching you, I said to myself, "wow, I can't believe I'm seeing this caliber of acting at our theatre. Being the daughter of a Korea veteran, and the niece of two other war veterans, I began to remember their stories, and their quiet and silent pauses after their stories. You transported our emotions and imagination beyond believe. You and this play will be remembered fondly, and as long as I'm here, you will always be welcome! Thank you and God bless!
- Linda Crockett, Event Coordinator, City of Austin, Emma S. Barrientos Mexican American Cultural Center, Austin, TX
"Douglas Taurel's performance of The American Soldier was an outstanding "tour de force", packed with heartfelt emotion and spirit. I was truly moved by the incredible stories and Douglas' ability to transform himself into 14 different characters. This is a show that I highly recommend to everyone! A Must See!"
- Neil Caplan, Artistic Director of Bannerman Castle Trust, Bannerman Island, NY
"We were spellbound. Totally riveted. We couldn't move. Totally spectacular! An unbelievable voice for past and current veterans!"
- Fort Hays State University, Hays, KS
"What a powerful show to see! The veterans and all of our residents were moved to tears. What a gift you gave to all of us, especially our veterans. It brought up so many emotions for everyone that we have not stop talking about the power and beauty of your show for the past week. What a wonderful show and opportunity you gave us. Thank you so much Douglas!"
- Liz Salinas, Engage Life Director, Atria at the Arboretum, Austin, TX
It was our pleasure to have Douglas Taurel bring his phenomenal show "The American Soldier" to our stage this fall. This play represents the best of the type of work we are proud to share with our audience here in Ridgefield, CT. In a political and social climate that is fraught with emotion and vitriol a piece like this is more important than ever. It is so important that we never forget the common valor and struggle of our American soldiers, from the past and right through to the many places they serve in conflict today. Doug's total respect for the American soldier framed within the social and political climate of each war is compassionate, respectful, painful, sad- a true embodiment of the totality of the experience of those who serve. If you have the opportunity to bring his work to your venue, do it! He is a professional through and through, and the play needs to be performed.
- Pamme Jones, Ridgefield Theatre Barn President