"A powerful one-man show that honors our Veterans and their families."
-Broadway World
The American Soldier has performed at The Kennedy Center, Library of Congress, American Legion National headquarters, Off Broadway and countless theaters and art center across the country for the past 4 and half years for veterans and audiences. It has been nominated for an Amnesty International Award for theatre excellence, received 4 stars at the Edinburgh Festival Fringe and been featured in The Huffington Post, The Military Times, The Washington Post and Time Out to name a few.
The American Soldier is based on real stories and accounts from soldiers' letters written from the American Revolution through current day Afghanistan. It reveals the struggles American soldiers face at war and their internal struggles to come back home. The show strives to help us understand how and why it is so difficult for men and women in the armed services to re-enter our pedestrian life when they come home. It honors and exposes their flaws, their scars, their families and spirits with darkness and humor.
The American Soldier is a veteran-themed play, but it is also a human story that shares how so many different nationalities and races have believed and committed to the idea of what makes America so beautiful. How so many men and women have put on, and are willing to put on the uniform, to fight, to defend and give the ultimate sacrifice for America, and what it stands for.
The American Soldier is also an American story.
Directed by Padraic Lillis And originally developed in Emmy Award-winner Matt Hoverman's GO-SOLO Workshop
Next upcoming shows will at Cape Cod, MA on November 11th, and the Kennedy Center on November 13th.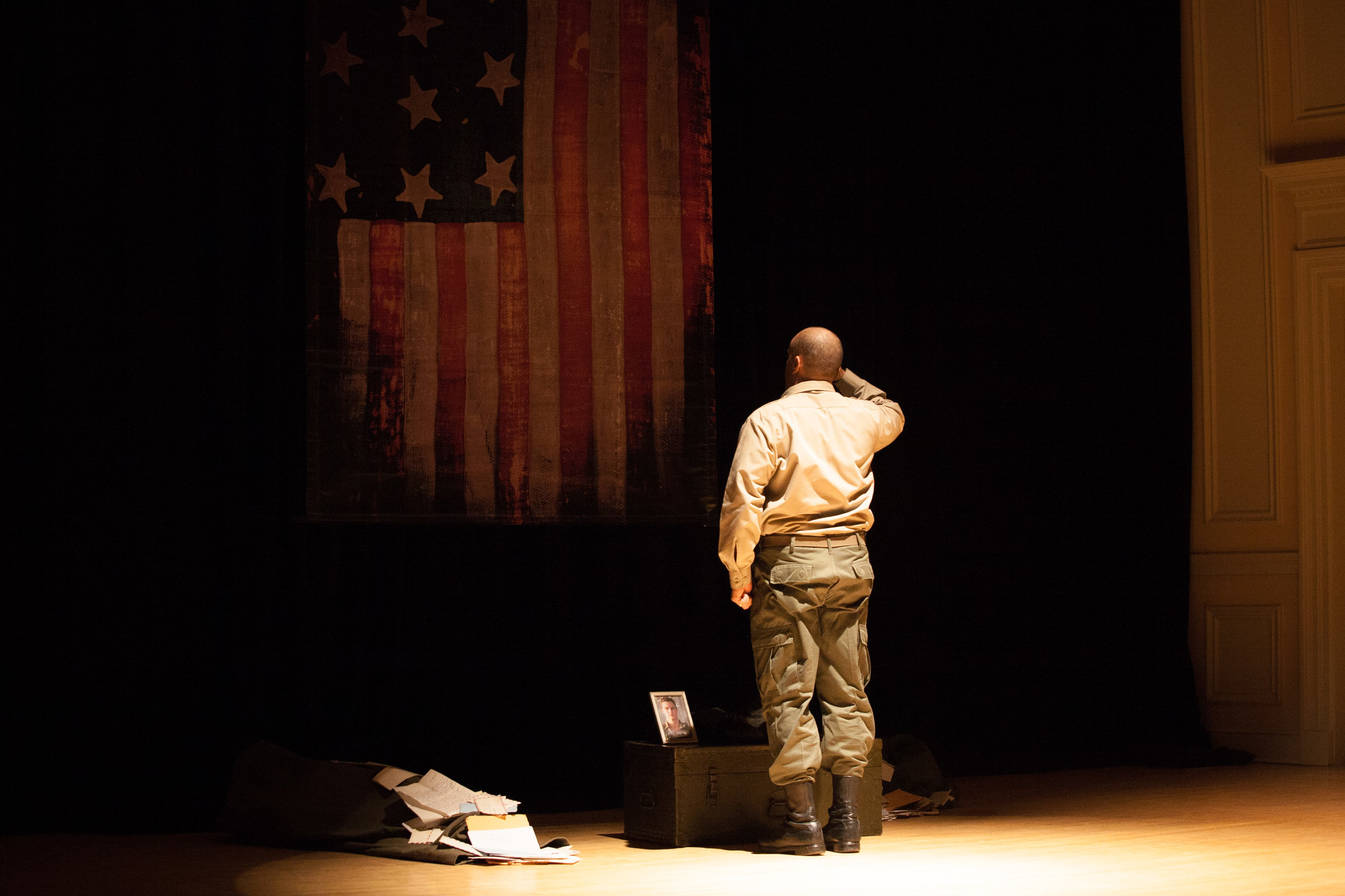 Nominated for Amnesty International Award
"Taurel gives each voice a sensitive, moving presence…He is utterly believable"
– British Theatre Guide

"...if you want to make the most out of your trip to D.C., go see The American Soldier this inauguration weekend."
– The Washington Post

"The American Soldier is definitely one of the five things you want to do this Memorial Weekend."
– The Austin Chronicle

"His one-man show…he honors our veterans in their own words…"
– The Military Times
Know that each time you perform Douglas, you're touching people in ways they weren't expecting. And for those who had an idea what to expect, you're touching them as well.
Thank you!
- David Zapsky Veteran, USAF
Your performance was one of the most amazing things I have ever seen on stage. I served in Iraq and Afghanistan, and a lot of times when people come up to me and ask me how does it feel to experience war, I personally can never find the works to express my experience, the way your performance did. Your performance says it all and your play is a voice for veteran. Thank you!
- Marc Coveli, Veteran of Iraq and Afghanistan, Purple Heart Recipient 2014
"This play is raw and incredibly emotional. It gives people who have never experience war or military service, a true and excellent idea of what is it is like. How it touches your soul, and changes your life."
- American Legion National Headquarters, Daniel S. Wheeler, National Commander
"Douglas, you have proved the power of drama in making the past relevant to the world today. The American Soldier makes history less about dates and events, and more about the lives of people. Thank you for bringing The American Soldier to the American Revolution Museum at Yorktown!
- Mark Howell, Director of Education, Jamestown-Yorktown Foundation, VA
"Douglas Taurel's compact solo play about war and its affect on the everyday soldier...is tightly crafted and effective!"
- Off Broadway, Erica Moffett, Women Around Town Magazine
"Our theatre strives to create theatrical experiences that relate to and move our audience. Douglas Taurel's The American Soldier certainly fulfilled that aspiration. Our audiences were deeply moved by his heartfelt performance. The American Soldiers a beautiful work of theatre."
- Chris O'Connor, Mile Square Theatre Artistic Director, Hoboken, NJ
"The two performances were unforgettable! Those that attended the two sold-out shows were moved beyond words at the power of the show and it's messages. "
- Frank Marquette, Theatre on the Road at Arts at the Chocolate Factory, Red Hook, NY
"The American Soldier powerfully brings home the impact of war on the people who live it day in and day out. He plays each character with passion, nuance and heart...a must-see!"
- Off Broadway, Nancy I. Kelly, Producer, Mono a Mono Festival
"Douglas Taurel offers an unvarnished portrait of generations of warriors and the pressures that continue to mold them after their wars are over."
- Off Broadway, John Chatterton, Curator & Producer of Midtown International Theatre Festival
"Douglas Taurel's performance of The American Soldier was an outstanding "tour de force", packed with heartfelt emotion and spirit. I was truly moved by the incredible stories and Douglas' ability to transform himself into 14 different characters. This is a show that I highly recommend to everyone! A Must See!"
- Neil Caplan, Artistic Director of Bannerman Castle Trust, Bannerman Island, NY
"What a powerful show to see! The veterans and all of our residents were moved to tears. What a gift you gave to all of us, especially our veterans. It brought up so many emotions for everyone that we have not stop talking about the power and beauty of your show for the past week. What a wonderful show and opportunity you gave us. Thank you so much Douglas!"
- Liz Salinas, Engage Life Director, Atria at the Arboretum, Austin, TX
This play represents the best of the type of work we are proud to share with our audience here in Ridgefield, CT. In a political and social climate that is fraught with emotion and vitriol a piece like this is more important than ever. It is so important that we never forget the common valor and struggle ofvour American soldiers, from the past and right through to the many places they serve in conflict today. Doug's total respect for The American Soldier framed within the social and political climate of each war is compassionate, respectful, painful, sad- a true embodiment of the totality of the experience of those who serve. If you have the opportunity to bring his work to your venue, do it! He is a professional through and through, and the play needs to be performed."
- Ridgefield Theatre Barn, Connecticut, Pamme Jones, AD
The American Soldier was everything I thought it would be and more. It's hard for non-military people to understand what our armed service vets have gone through, but this show is the best way I have ever seen to start the much-needed conversation. Douglas Taurel's spot-on characterizations take us deep into the darkness of the wars of the earth and of the human heart. With his deft writing and carefully selected material, we get to experience the effects of war from the perspective of veterans and their families through their own letters. It is deeply moving and illuminating, a glimpse into a kind of experience most of us will never know. This show is a great way to say thank you and to honor our vets for their sacrifices. If it comes to your area, don't miss it! Better yet, find a way to bring the show to your area! We are honored that he was able to come and present at UNH!
- Deborah A. Kinghorn, Professor at the University of New Hampshire